5 Essentials For Autumn Cycling
If you're new to cycling or are looking to refresh your memory on Autumn cycling, our pros here at Aire Velo Bearings are here to share some tips. The safety and wellbeing of all cyclists are paramount throughout all seasons, but especially in the autumn and winter months as the weather begins to change you should always ensure maximum safety.
Our must-haves for maintaining and adapting yourself and your bike could be the difference between a safe and enjoyable ride or it taking a turn for the worse. So, please explore our must-haves for autumn cycling below and find out more about what to expect and prepare for.
What Changes With Summer to Autumn Cycling?
As we see the transition from summer into autumn, you will notice that the nights have gotten dark quicker and the temperatures and weather are changing. So, naturally, this means that it can be colder, darker and in some cases more treacherous. Rather than just finding out the difference when you go out cycling, it's much safer to adapt to the changes and make any precautions before your autumn rides. But what would this include? Let's find out some of the must-haves for your autumn riding.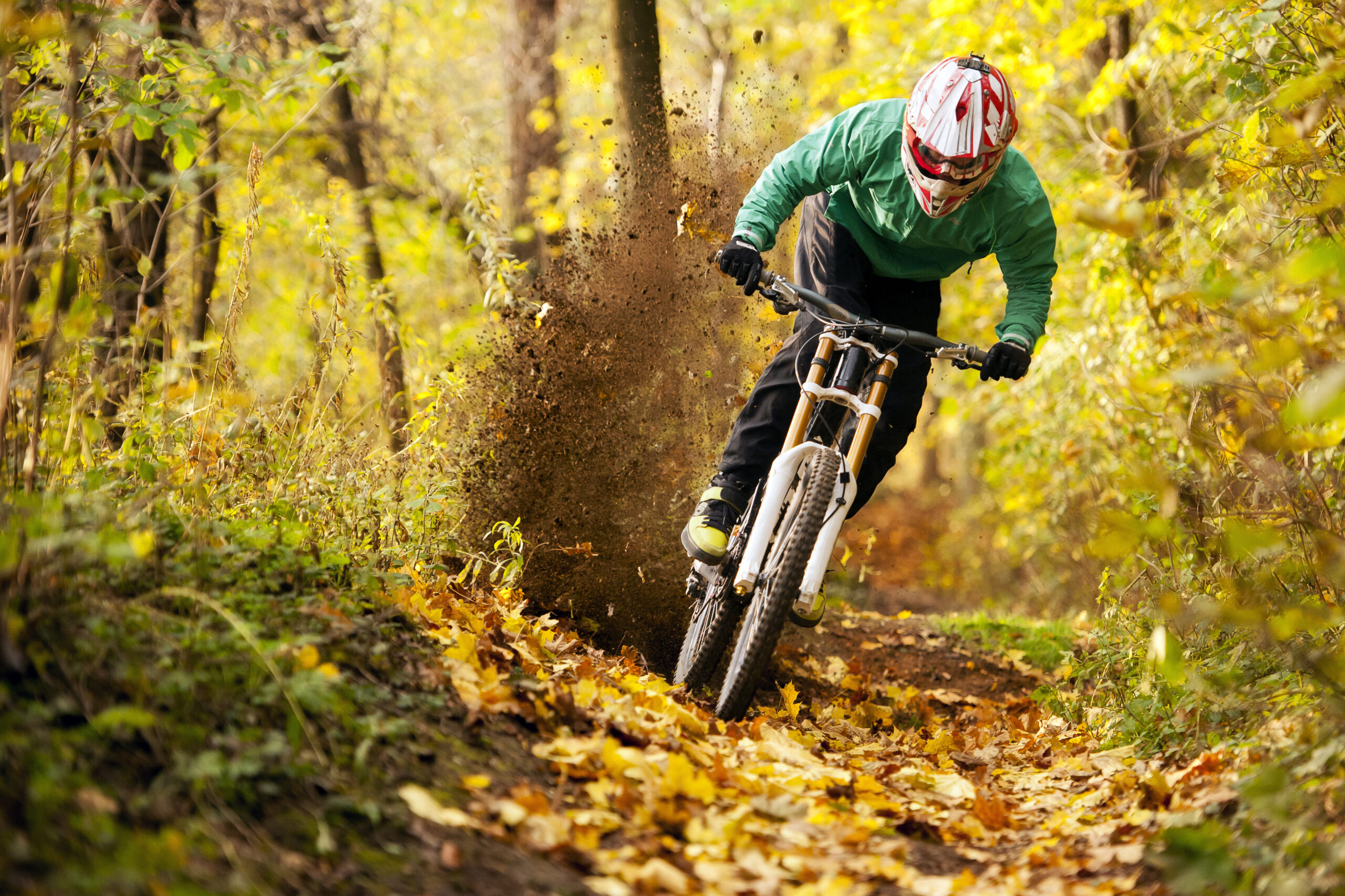 1. Check Your Tyres
One of the most important things you should consider and adapt when it comes to autumn and winter cycling is the tyres. You must ensure that they have enough grip and thread on them to avoid any accidents or injuries. Puncture-resistant tyres are highly recommended and are a great precaution to invest in.
A simple check and 'bike service' is highly recommended before beginning your journey just to ensure that everything is safe before you go. You should also look into the parts on your bike to make sure that they're all working properly and are in good condition. Checking things such as the headset bearings will ensure that the bike is working as it should.
2. Fenders
Now that the damp and wet days are coming, you'll need to make sure that your bike has fenders. This will keep your bottom dry and will control the amount of rain, dirt and water that flies up at you. It will make your bike ride far more comfortable rather than having the wet and mud come up.
3. The Correct Clothing
Choosing the right type of clothing for cycling is just as important and the tyres on the wheels. With unsuitable clothing, you could be more at risk of injury or even simply getting bunged up with a cold. So, just like you would with tyres, you should coordinate your clothing to suit the weather and the surface conditions.
When choosing your autumn clothing for cycling, you should consider: arm warmers, a base layer, shower coat, gloves and a base layer. Don't start your journey if you're already feeling cold or unprepared, you must be comfortable in order for your body to adapt and stay warm.
4. Lights
Now that it's likely to be dark or even overcast, it's always best to ensure that you have your lights on. Whereas in summer the nights were brighter and lighter, now you need to make sure you can be seen everywhere. So, make sure you have enough power or charge in your lights and use them in all journeys that are dark or even dim.
5. Glasses with a Lighter Tint
Something that can be highly beneficial for your eyes now they may be exposed to gloomy or dull light is some glasses with a lighter tint. A photochromic lens that transitions from a lighter to a darker tint is also highly recommended for any autumn rides. This will adapt the lens to suit the autumn sky and light. It's an easy but effective way to protect your eyes from the autumn skies, and even flies!
For More Information, Call Aire Velo Bearings
Should you require more information about preparing you and your bike for the autumn and winter months, please do not hesitate to contact us. From advice and information to answering your questions, we will be more than happy to help.
We have many years of experience within the cycling industry, meaning we're confident that we will be there to take care of all your bike and cycling related needs. Be sure to give us a call to find out more about how you can prepare for your bike for autumn.