Cycling for Beginners
Cycling is a truly invigorating and liberating experience, enjoyed by people of all ages and from all walks of life. Whether you're cycling to work, to school, to the shops or just for fun, the humble bicycle is an easy way to get more active.
This guide is designed to make cycling a safe and enjoyable experience for beginners and provide you with tips on staying motivated.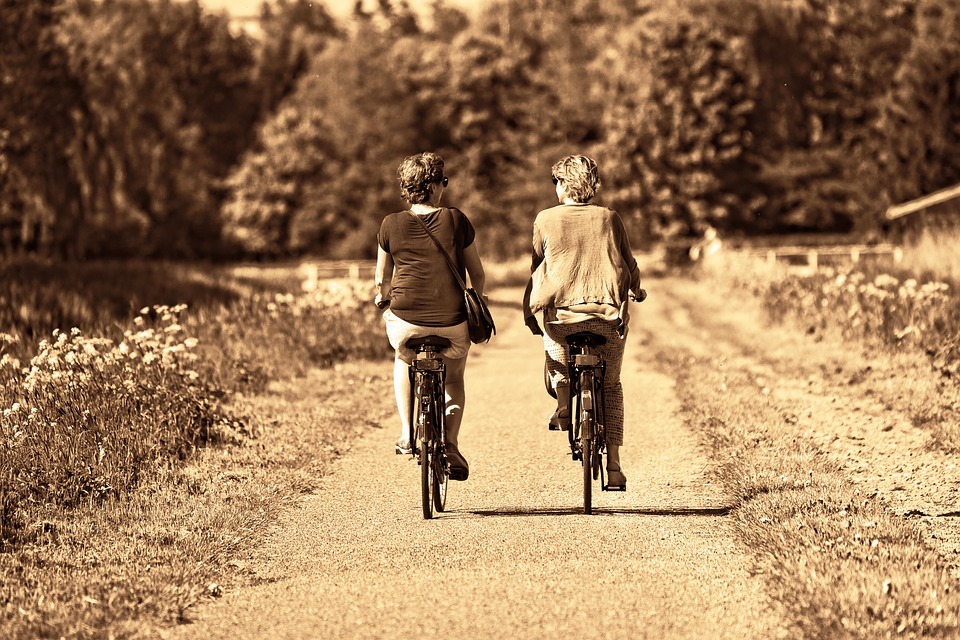 Before you Start
For short journeys, any good working bike will do. You might have an old 10-speed racer, a shopping bike or a bargain mountain bike that you could use. If you're buying a second-hand bike or you have an old bike that's been gathering dust, consider having it serviced at a bike shop to ensure it's roadworthy.
If you're buying a new bike, there are lots of models to choose from. Hybrids, road bikes and mountain bikes are most popular.
Which Bike to Buy?
Mountain Bike
Mountain bikes are the most popular type of bike on the market. They are durable and good for travelling off road, but they are also much heavier than road bikes. This means that they will be slower on flat surfaces.
Road Bike
A road bike has a lighter frame and smooth, narrow tyres. As a result, it's great for travelling at high speed and good for climbing hills. However, it's not suitable for taking off road and the drop handlebars can take a little getting used to.
Hybird Bike
If you're looking for bike that's suitable for on-road and off-road cycling, you might consider a hybrid bike, also known as a 'trekking' bike. The only problem with these bikes is that they're not as fast or efficient as the road bike on the road, nor as good off road as the mountain bike. With a hybrid bike you're advised to stick to well-worn tracks and paths.
Other Essentials in a Kit Include;
Helmet – this should sit firmly on your head, and you should feel the straps pulling under your chin when opening your mouth.
Lights – both front and back for night riding.
Reflectors – red at the rear, amber for the pedals.
Basic tool kit – puncture repair kit, tyre levers, spare inner tube, allen key set or multi-tool, and a pump.
Bike Maintenance
No matter if you've been cycling for a year or just starting out bike maintenance is highly important. One of the most important aspects of your bike is what makes it work effectively… The ball bearings. When you stop to think about it, ball bearings are at the centre of any part that rotates on your bike. There are many types of bearings in which you can choose which include; steel, stainless steel, or ceramic balls. Upgrading your ceramics also allows you for a smoother ride.
Cycling Safety Types
Look behind you before you turn, overtake or stop
Use arm signals before you turn right or left.
Obey traffic lights and road signs.
Don't ride on the pavement unless there's a sign that says you can.
Don't cycle next to another person on busy or narrow roads.
When overtaking parked cars, watch out for car doors opening suddenly and allow room to pass safely.
Don't use headphones while cycling.
Never use a mobile phone while cycling.
What Exercises Will Get My Muscles Ready?
Exercises that strengthen your core, legs and protect your lower back, can all be done at home before you set off.
Plank – Lie on your front, weight supported your by toes and forearms. Hold for 10 to 30 seconds. Perform three sets.
Lunges – Stand with feet together, hands on hips. Lunge forward with your left foot and bend your knees. Repeat on the right side. Perform four sets of 15 with 30 seconds rest between each set.
Superman – Lie facing the floor, with arms and legs outstretched. Raise your arms and leg up a few inches and hold for a count of 10. Perform three sets.
One-Legged Squats – Take the weight on your left leg and lift the right leg an inch or so off the floor. If you need to, use a chair for balance. Slowly bend your left knee as much as you can, pushing your bottom back. Straighten your leg and repeat, keeping your right foot off the floor at all times. Perform four slow sets of 15 on each leg.
The Benefits of Cycling
The benefits of cycling are almost as endless as the country lanes you could soon be exploring. Some of the top benefits of cycling include:
Mental Health
There are so many ways that exercise can boost your mood: there's the basic release of adrenalin and endorphins, and the improved confidence that comes from achieving new things.
Cycling combines physical exercise with being outdoors and exploring new views. You can ride solo – giving you time to process worries or concerns, or you can ride with a group which broadens your social circle.
Weight Loss
The simple equation, when it comes to weight loss, is 'calories out must exceed calories in'. So you need to burn more calories than you consume to lose weight. Cycling burns calories: between 400 and 1000 an hour, depending on intensity and rider weight.
Build Muscle
The resistance element of cycling means that it doesn't just burn fat: it also builds muscle – particularly around the glutes, hamstrings, quads and calves. Muscle is leaner than fat, and people with a higher percentage of muscle burn more calories even when sedentary.
Better Lung Health
You won't be alone if this point seems contradictory to common sense. But a recent study suggests that people who ride a bike are actually exposed to fewer dangerous fumes than those who travel by car.
Cut Heart Disease and Cancer Risk
Cycling raises your heart rate and gets the blood pumping round your body, and it burns calories, limiting the chance of your being overweight. As a result, it's among a selection of forms of exercise recommended by the NHS as being healthy ways to cut your risk of developing major illnesses such as heart disease and cancer.
Low Impact
Many of the upshots we discuss when we talk about the benefits of cycling are exercise related. Reckon it might be easier to just go for a run? Running is weight bearing – and therefore injury rates are higher. Cycling, by contrast to running, is not weight bearing.
Sleep Better
It probably isn't rocket science that tiring yourself out on the bike will improve your sleep – but now it's been proven. Researchers have found men and women aged 20 to 85 over a period of 35 years and found that a drop in fitness of 2 per cent for men and 4 per cent for women resulted in sleep problems.