With winter approaching, those darker nights and mornings are enough to make you want to put off your daily cycle and retreat to the warmth of your bed. However, there are a few good reasons to keep cycling even when conditions seem less than favourable. For a start, if you use your bike to commute to work, you will continue to save money on growing fuel prices or paying for taxis. Additionally, cycling is much better for the environment, and quicker than simply walking.
Here at Airevelo Bearings, we understand that cycling in winter can seem like a daunting task, worrying about battling the elements to make sure you arrive at your destination safely. Luckily for you, our team are experts when it comes to bicycles, supplying a range of bike bearings and maintenance tools to make sure you can stay cycling year round. For some of our informative tips for cycling on roads during the winter, keep reading below!
What Makes Winter Tricky?
There are several reasons why you should take extra precautions when cycling in winter, both for road cycling and off road on trails. The main reason is simply down to the change in weather conditions. Winter is full of rainy days and the temperature can dip to below freezing very easily, creating the perfect recipe for ice to build up on roads or trails. Sometimes, this ice can be difficult to see and lead to skidding or sliding, which can be especially dangerous if you're cycling on a busier road.
The change in temperature also adds the complication of it simply being cold. Cold air mixed with the high speeds you can reach while cycling can lead to skin irritation or even sickness if you persistently get cold or damp riding on your bike. Some ways to avoid these problems involve being extra cautious on roads or areas of high traffic, and wrapping up in warm, waterproof clothing.
For more information and to read more of our tips, check below! 
Wear Appropriate Clothing
As we've already mentioned, it is important to make sure you wear the appropriate clothing when heading out on a winter ride. Good quality winter cycling gear is designed to last for a long time, so while it may feel like a big cost to start with, these items are guaranteed to provide warmth and waterproofing for many, many years, especially if you use them specifically as winter biking clothing. Some of the things to purchase include:
Thick, warm gloves.
Face protection – such as a balaclava that can also shield ears
Waterproof jacket
Waterproof cycling trousers
Shoes that won't retain water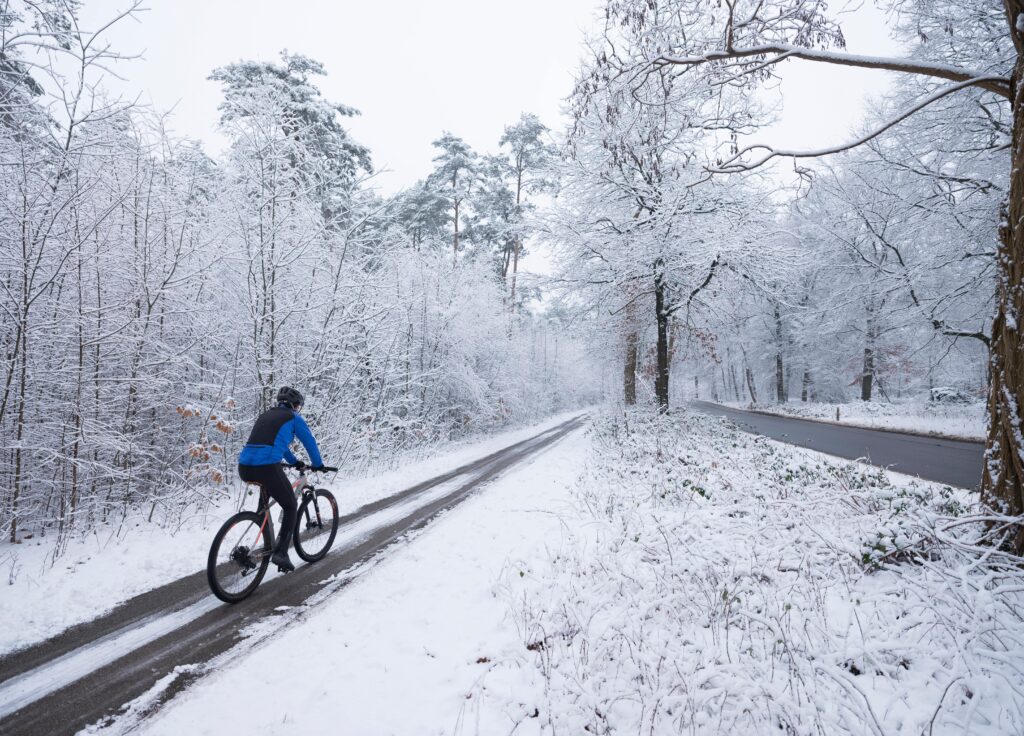 Be Extra Cautious
Winter can impact manoeuvres and actions you take in a big way. Things you do everyday and pay no mind to will now require a second to consider before performing them, as recommended by guidance set out by the met office. For example, braking. Icy or wet roads make your tyres more likely to slip if a hard or sudden brake is applied, so in winter you need to do this much smoother and avoid locking the wheels. Similarly, adjust your road position to make sure you're always visible to drivers or pedestrians, and take steps to keep grip while cornering. 
Increase Visibility 
When you're cycling in the darker mornings or evenings, your own visibility to other cyclists and vehicles should be one of your top priorities. It's not just darkness that can decrease visibility, as can rain, sleet, and snow that is a common occurrence in winter. To make sure you stay visible to other road users, we suggest investing in good quality lights for your bike and utilising a high-vis vest or jacket for use in less than ideal conditions. 
Take Care of Bearings
Your bike bearings are extremely important for bicycle maintenance year round, so the last thing you want to do is forget to take care of them during the harshest months of the year. Ensure your bike bearings are well lubricated but not exposed to excess water from the roads or rain and remember that hubs, shifters, bottom brackets, and brake adaptors can all benefit from additional time and care spent keeping them in good condition.
Don't Cycle Alone (if possible) 
While it may not always be possible to cycle with multiple people – especially if cycling is your go to for commuting – cycling in a pair or larger group is highly beneficial. If an accident occurs while cycling, the group can provide assistance or contact appropriate emergency services promptly should it be serious. Additionally, if you damage your bicycle, somebody in the group may have tools or supplies with them for any necessary repairs.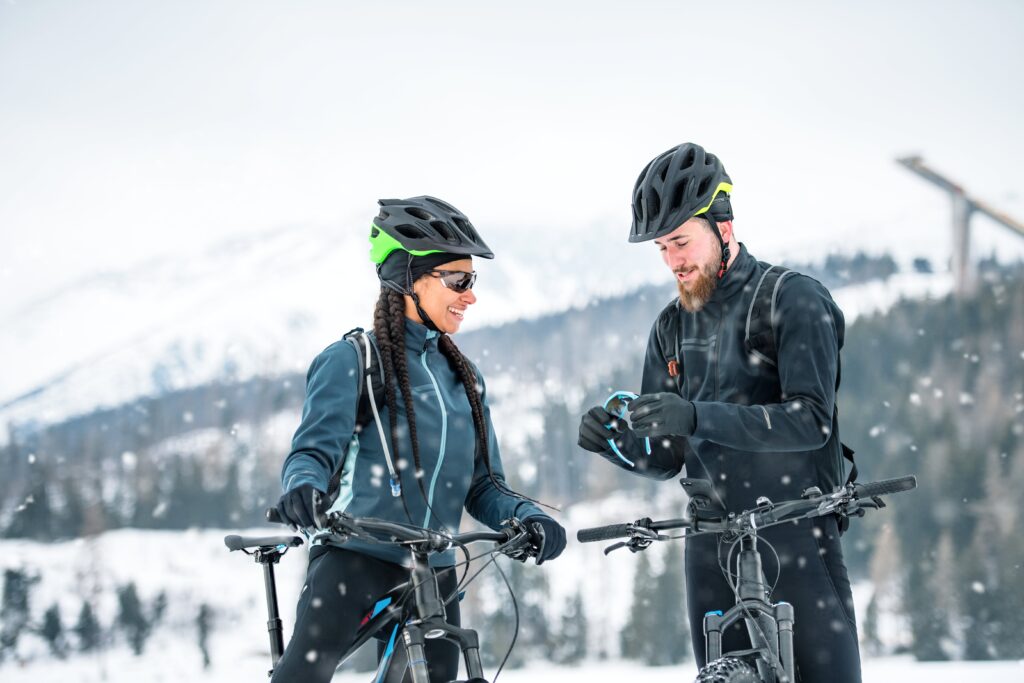 For more information on winter road safety, Airevelo Bearings can help!
If you want to know more on keeping yourself safe during winter both on and off the road, our team at Airevelo Bearings can provide you with advice, guidance, and more! Additionally, we have several helpful blogs crammed full of useful information regarding cycling in winter, including our Winter Cycling Survival Guide, Tips for Cycling in the Cold, and for after winter maintenance, you can check out information on how to Spring Clean your Road Bike! 

Get in touch today to have a chat with our friendly and experienced team! We're only a phone call away and can't wait to hear from you!